Fallout 4, Her Story i Rocket League wielkimi zwycięzcami przeglądu BAFTA
09 kwietnia 2016 14:35

16

,

Wiedźmin 3: Dziki Gon był nominowany w przeglądzie BAFTA w siedmiu kategoriach, a mimo to nie udało mu się zdobyć ani jednej statuetki.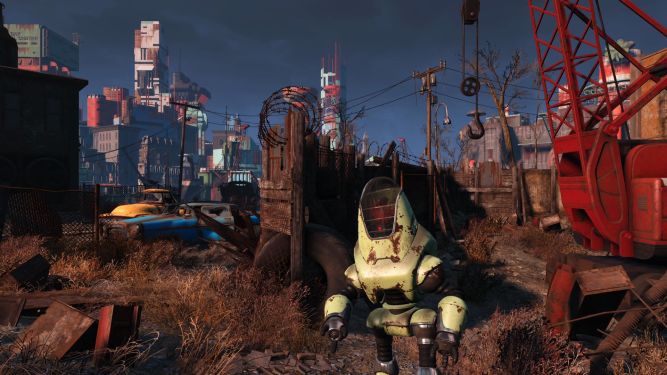 Fallout 4
został wybrany najlepszą grą 2015 roku w prestiżowym przeglądzie
BAFTA
. Co ciekawe, jest to jedyne wyróżnienie otrzymane przez produkcję
Bethesdy
. Na więcej nagród mogli liczyć twórcy
Rocket League
,
Her Story
oraz
Everybody's Gone to the Rapture
, spośród których każde otrzymało po trzy nagrody.
Smakiem tym razem musieli się natomiast obejść autorzy Wiedźmina 3. Dziki Gon nominowany był w aż siedmiu kategoriach i pomimo tego, że zdobył liczne nagrody we wcześniej organizowanych przeglądach, tym razem nie przypadło mu w udziale ani jedno wyróżnienie. Poniżej przedstawiamy wszystkie nominacje w poszczególnych kategoriach. Zwycięzcy zostali wyróżnieni pogrubieniem.
Najlepsza gra
Metal Gear Solid V: The Phantom Pain
Everybody's Gone to the Rapture
Life is Strange
Rocket League
Fallout 4
The Witcher 3: Wild Hunt
Najlepszy projekt
Lovers in a Dangerous Spacetime
Rocket League
Grow Home
Bloodborne
Her Story
The Witcher 3: Wild Hunt
Najlepszy multiplayer
Lovers in a Dangerous Spacetime
Tom Clancy's Rainbow Six Siege
Destiny: The Taken King
World of Warships
Rocket League
Splatoon
Najlepsza fabuła
Everybody's Gone to the Rapture
Life is Strange
Until Dawn
Undertale
Her Story
The Witcher 3: Wild Hunt
Najlepsza gra sportowa
Forza Motorsport 6
DiRT Rally
Football Manager
FIFA 16
Rocket League
PES 2016
Gra, do której ciągle wracamy
Destiny: The Taken King
Final Fantasy XIV Online
LEGO Dimensions
Guitar Hero: Live
Prison Architect
The Witcher 3: Wild Hunt
Najlepszy występ
Oliver Dimsdale – Everybody's Gone to the Rapture (Stephen Appleton)
Merle Dandridge – Everybody's Gone to the Rapture (Kate Collins)
Mark Hamill – Batman: Arkham Knight (The Joker)
Ashly Burch – Life is Strange (Chloe Price)
Masasa Moyo – Broken Age: Act 2 (Vella)
Doug Cockle – The Witcher 3: Wild Hunt (Witcher)
Oryginalna własność intelektualna
Everybody's Gone to the Rapture
Ori and the Blind Forest
Life is Strange
Splatoon
Her Story
Until Dawn
Najlepsza muzyka
Batman: Arkham Knight
Assassin's Creed Syndicate
Halo V: Guardians
Everybody's Gone to the Rapture
Ori and the Blind Forest
Fallout 4
Najlepsza gra brytyjska
Everybody's Gone to the Rapture
Batman: Arkham Knight
Prison Architect
Tearaway Unfolded
Until Dawn
Her Story
Najlepszy debiut
Keep Talking and Nobody Explodes
Her Story
Prune
Ori and the Blind Forest
Mini Metro
Lovers in a Dangerous Spacetime
Najlepsza gra rodzinna
Disney Infinity 3.0: Play Without Limits
Guitar Hero: Live
Super Mario Maker
Rocket League
FIFA 16
LEGO Dimensions
Nagroda przyznawana przez widzów dla najlepszej gry e-sportowej
Counter-Strike: Global Offensive
Hearthstone: Heroes Of Warcraft
League Of Legends
Dota 2
Smite
Call Of Duty: Black Ops 3
Osiągnięcia artystyczne
Assassin's Creed Syndicate
Metal Gear Solid V: The Phantom Pain
Everybody's Gone to the Rapture
Ori and the Blind Forest
Batman: Arkham Knight
The Witcher 3: Wild Hunt
Osiągnięcia w dźwięku
Everybody's Gone to the Rapture
Batman: Arkham Knight
Assassin's Creed Syndicate
Metal Gear Solid V: The Phantom Pain
Star Wars Battlefront
The Witcher 3: Wild Hunt
Najlepsza gra na urządzenia mobilne
Prune
Fallout Shelter
Lara Croft GO
Alphabear
Her Story
The Room Three
Największa innowacja
Everybody's Gone to the Rapture
Her Story
Metal Gear Solid V: The Phantom Pain
Life is Strange
Until Dawn
Splatoon
Tweet